Teroles
Designed for professional chefs, check out this TeaTeroles recipe: cooking instructions broken into components, full list of professional ingredients, chefs' preparation secrets. Master this recipe with products like: Lipton Earl Grey Black and Carte D'or Chocolate Topping.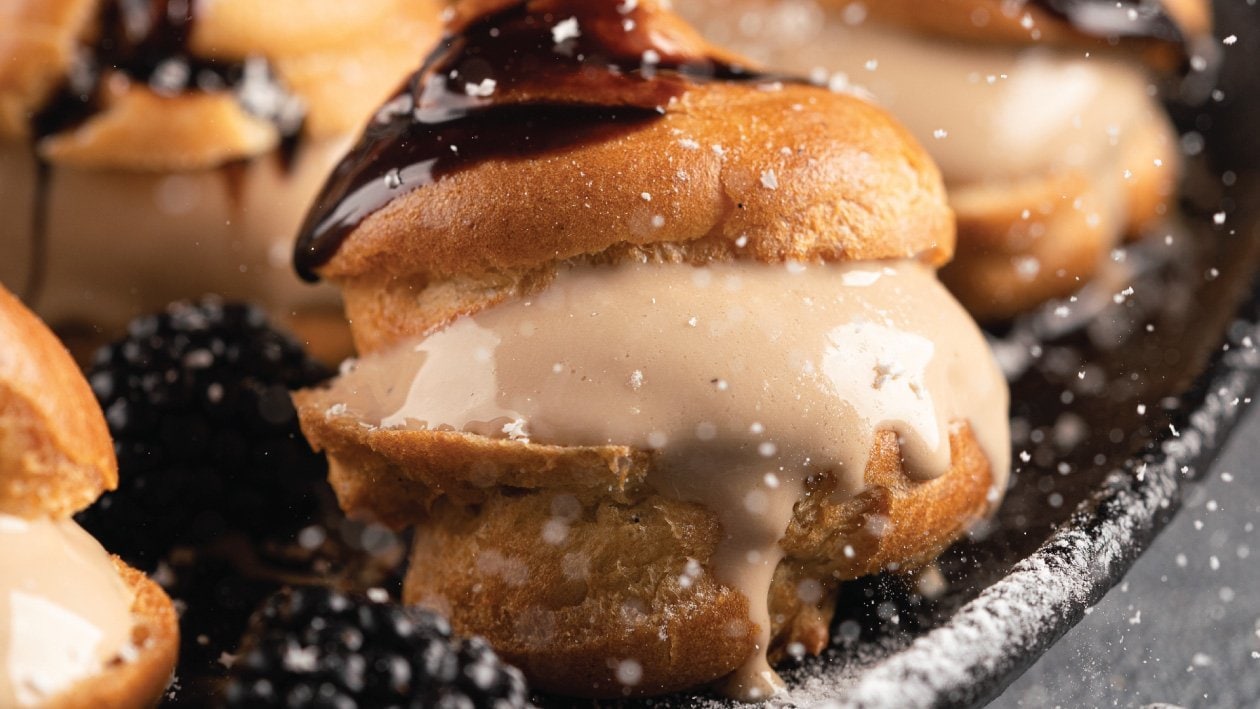 Ingredients
Tea Ice Cream:
Sweetened condensed milk

120.0 g
Profiteroles:
Mini choux pastry, ready

30.0 pc

White chocolate shavings

100.0 g
Preparation
Tea Ice Cream:

Pour the cream and the two milks into a double boiler or a heatproof bowl set over a saucepan of gently simmering water. Whisk (200 grams) of the sugar and the salt and stir until the sugar and salt have dissolved. Warm the mixture until you see steam rising from the top. Remove from the heat and strain the mixture into a bowl.
Meanwhile, prepare an ice bath in a large bowl and set another bowl over it. Set aside.
In a medium bowl with a kitchen towel underneath it to prevent slipping, whisk together the egg yolks with the remaining (100 grams) sugar until uniform. While whisking, add a splash of the hot dairy mixture to the yolks. Continue to add the dairy mixture, whisking it in bit by bit, until you've added about half. Add yolk mixture to the remaining dairy mixture in the double boiler. Set the heat under the double boiler to medium and cook the custard, stirring continuously with a wooden spoon and reducing the heat to medium-low as necessary, until steam begins to rise from the surface and the custard thickens enough to coat the back of the spoon. Hold the spoon horizontally and run your finger through the custard. If the trail left by your finger stays separated, the custard is ready to be cooled.
Strain the custard into the bowl sitting over the prepared ice bath and stir for 3-5 minutes, or until the custard has cooled. Transfer the custard to a quart-size container, cover, and refrigerate for at least 4 hours or, preferably, overnight.
Pour the chilled custard into an ice cream maker and freeze according to the manufacturer's instructions. Place the container in which you refrigerated the custard in the freezer so you can use it to store the finished ice cream. Churn the ice cream until the texture resembles "soft serve." Transfer the ice cream to the chilled storage container and freeze until hardened to your desired consistency. Alternatively, you can serve it immediately—it will be the consistency of gelato. The ice cream will keep, frozen, for up to 7 days.

Profiteroles:

Cut each of the profiteroles in half and fill with a small scoop of the prepared Tea ice cream.
Plate and drizzle with Carte D'or Chocolate Topping.
Garnish with white chocolate Shavings.