Through simple steps and unique additions from Unilever Food Solutions Chefs, you will learn the best ways to make irresistible vegetables to serve to your customers, or even yourself at any time.
Chefs rely on the use of vegetables to give food a unique taste, vegetables are an essential element in the food dish, how can you use one ingredient to make the shape and taste of your food with a different taste that is irresistible? the basis for cooking is to mix between modern and old tricks to get a wonderful mixture that can only be repeated with these steps.

In the following lines we will present to you the coolest recipes and tricks by Unilever Food Solutions chefs that that will help you cook irresistible vegetables.

Irresistibly Baked Vegetables
The taste of vegetables varies from one type to another if they are natural or ripe, so how after cooking can we get an irresistible vegetable mix in one meal? this is what we seek to offer now. So if you are looking for the answer to the question: how to make any vegetable irresistible? Of course, bake it in a distinctive way.
The easiest tricks in life are often always the best; even in cooking, if you know how to prepare a delicious meal with a few ingredients in the least time you have achieved the difficult equation and definitely worth a round of applause.
Grilled or baked vegetable recipes are considered one of the best healthy and delicious options, especially in the atmosphere of abundant summer vegetables, and grilling vegetables has many advantages, including:

The taste of grilled vegetables is crisp on the outside, tender and caramelized on the inside.

Oven-roasted vegetables have their natural sweetness, which makes them attractive to different tastes and even picky people.
They are considered a healthy and important option in the base dish.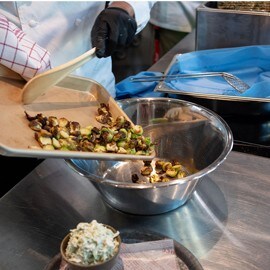 Tips While Cooking Baked Vegetable Recipes
If you are looking for an excellent taste of attractive and wonderful vegetable recipes in the least time, follow the tips of Unilever Food Solutions Chefs to get irresistible vegetables:
Use high temperature for grilling, the best temperature for grilling vegetables is 180 degrees Celsius, and if you are using a convection oven, choose a baking program and reduce the heat to 170 degrees Celsius.
Do not roast vegetables on top of each other; vegetables need to be grilled in a single layer without overlapping each other on the baking sheet, this method allows air to circulate, making the outer surface crisp and the inner soft caramelized.
Use olive oil in sufficient quantity while grilling vegetables; the oil is necessary for vegetables to caramelize.
Rotate the pan or baking sheet 180 degrees halfway through cooking time especially if the oven does not bake evenly, and absolutely if you are using a convection oven.
Switching between the top and bottom shelves is essential while baking, if you are grilling on two levels, place the bread tray in the upper and lower thirds of the oven; and switch the top and bottom position halfway through the cooking time.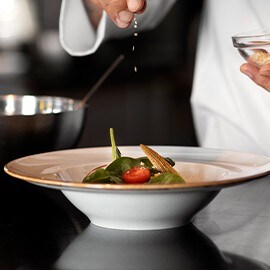 Roasted Vegetable Seasoning Ideas
Spices are considered the secret of the mixture! Of course, adding a distinctive and unique flavor to irresistible vegetables comes primarily from using the quality of grilled vegetable seasonings suitable for each type of food, and below we offer the best tips of Unilever Food Solutions Chefs from all around the world:
Grilled Spicy Vegetables: Season vegetables with half a teaspoon of Chipotle chili powder, or regular chili powder plus chili.

Grilled Cheese Vegetables: Add to the grilled vegetables fresh grated cheddar, mozzarella or parmesan cheese, then put them in the oven again for a few minutes until they melt and you get irresistible vegetables.

Garlic Grilled Vegetables: Season the vegetables with garlic powder or add a few cloves of garlic, thinly sliced in the roasting pan, and get an irresistible flavor, aroma and taste.
Crispy Roasted Vegetables: Add thin lemon slices or orange slices to the roasted vegetable pan, and after grilling add a squeeze of freshly squeezed lemon juice or orange juice.
Rosemary Grilled Vegetables: Before grilling, mix the vegetables with a teaspoon of dried rosemary, or sprinkle chopped fresh rosemary over the vegetable tray at the end after baking.
Grilled Vegetables with Pesto Sauce: Mix the vegetables in the ready-made pesto sauce with a little olive oil and put them in the oven for a unique flavor and taste.

Honey Grilled Vegetables: Add a tablespoon of white mountain honey with a light pinch of salt, then cover the baking sheet with foil or parchment paper for easy cleaning later.

Curry Roasted Vegetables: Add to the vegetables curry seasoning and a few cumin and stir well before spreading in a grilling pan and wait for the irresistible vegetable mixture.

Grilled Vegetables with Balsamic vinegar: Add a tablespoon of balsamic vinegar before roasting, and don't forget to line the baking sheet with parchment paper or foil for easy cleaning later.

Mediterranean Grilled Vegetables: Season the vegetables with thyme along with a little vinegar, add the olive slices to the pan, sprinkle with feta cheese and topped with a little lemon juice before serving.
Vegetable baking tips with adding unique touches of spices to each type makes you get an irresistible vegetable mix with minimal effort. If you are looking for more great recipes at the lowest costs and the best experiences of Unilever Food Solutions chefs, then make sure to follow us constantly.