Black Forest Mousse
Designed for professional chefs, check out this Black Forest Mousse recipe: cooking instructions broken into components, full list of professional ingredients, chefs' preparation secrets. Master this recipe with products like: Carte D'or Chocolate Mousse.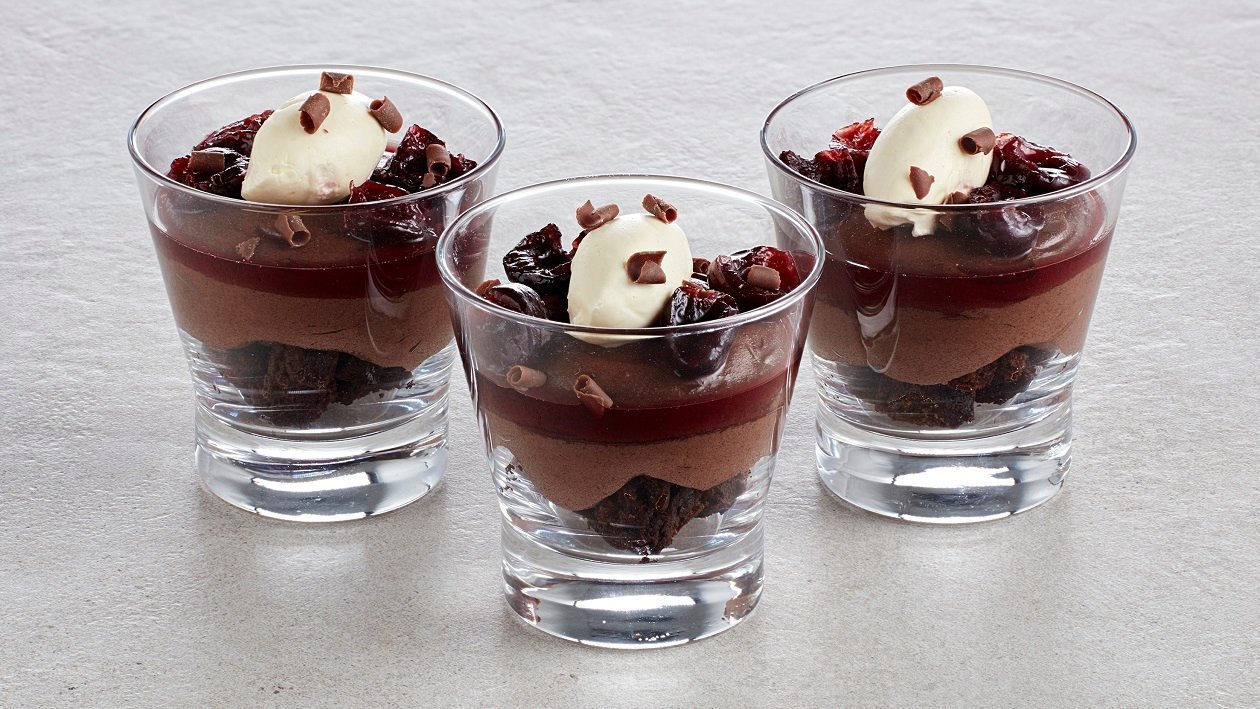 Ingredients
Chocolate Mousse:
Semi skimmed milk

500.0 ml
Sour Cherries:
White wine vinegar

40.0 ml
Chantilly Cream:
To Assemble:
Chocolate Brownies

500.0 g
Preparation
Chocolate Mousse:

Pour the cold milk into a bowl and add the Carte D'or Chocolate Mousse.
Whisk with an electric mixer for 2 minutes at a low speed followed by 5 minutes at high speed.
Place into a piping bag.

Sour Cherries:

Heat the sugar then vinegar together until a light caramel is achieved.
Reduce the heat and add the star anise, cinnamon and cherries.
Cover the pan and keep on a low heat for 3-5 minutes until the cherries are cooked. Allow to cool, and keep chilled until needed.

Chantilly Cream:

Pour the cream into a large mixing bowl then whisk until soft peaks form.
Add in the icing sugar and vanilla extract and mix in gently until well incorporated.
Set aside.

To Assemble:

Cut the brownie into small cubes and place at the base of each dessert glass.
Pipe the chocolate mousse onto the brownie.
Quenelle or pipe some chantilly cream on to each mousse and top with the spiced sour cherries and the cooking liquor.