Be dedicated and passionate
Passion is very important. I love cooking and feel this is one of the main reasons for my success. My mom told me that creating one excellent dish in a day isn't inspiring; to create the same dish with the exact same passion and perfect taste multiple times in a day, that is what our profession is about.
Have a target
My mom was my first mentor. She taught me how to succeed in Pakistani cuisine and told me she wanted a wall of 40 culinary medals. She passed away four months ago, I haven't completed her target; I have 14 so far, but I won't stop until I make it happen.
Learn from your peers
Keep your mouth shut and your eyes and ears open. This rule I still follow today; I speak little, but observe and listen a lot. When I knew I wanted to become a chef, I got in touch with Chef Naveed, Sous Chef at a famous Pakistani restaurant. He recommended I go to COTHM, one of the best culinary schools in Pakistan. He was my mentor in my early days, he guided me on techniques and creating continental dishes; he even taught me how to use the internet for research. I also encourage young chefs in Pakistan to share as much knowledge as they can with each other.

Use failure to drive success
I narrowly lost out twice on Chef of the Year in Pakistan, so I asked the judges what was the reason, they just said the winner was slightly better than me. I told them the trophy was very precious to me, and to keep it safe as I will win it soon. And eventually I did!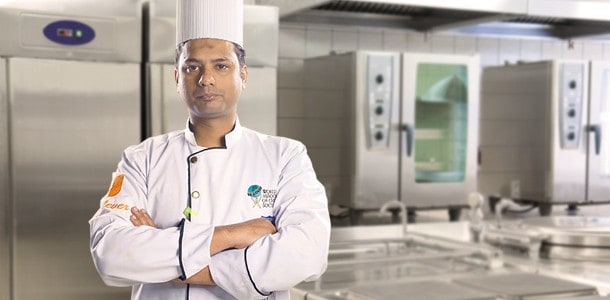 Get to know chef speak
When I was a trainee in Pakistan, I was working in the cold section and one of the senior chefs told me to apply soap on all breads. I was confused; I questioned what he said, and he looked back at me angrily and said: "do I have to request again?" I was scared, so I ran to a grocery shop, bought soaps in bulk, came back and applied soap to all breads. I can't tell you what happened after that, but I soon found out that soap was the chefs' word for mayonnaise!
Embrace change
Be open-minded and try out new things. Many chefs in Pakistan are still using the same techniques and style they learnt 15 years ago, but global cooking styles have changed and improved, and we need to catch up.

Accept a work/life imbalance
I believe there can't be a balance. If you want to succeed in this field, don't think you can go home early after a 9-hour shift. It must be a gruelling 16-hour day! I'm okay with making this sacrifice as I'm happy and love what I do. 
Make the most of your ingredients & resources
Ready to use products have made our life much easier. We use Demi Glace Sauce, Chicken Stock Cubes and Chicken Stock Powder; they really enhance flavour and give us a consistent taste across dishes.

About the Chef
Pakistani Chef Falak Gohar has been dubbed the Pride of Pakistan's culinary scene. Now a Sous Chef at Gourmet Catering Company in Pakistan, he grew up watching his parents cooking for their catering business. At 31, he is already an accomplished chef with many culinary successes to his name, including being crowned UFS's 2016 Chicken Expert. A firm believer in hard work and practise, he's keen to drive Pakistani cuisine to new highs. 
Chef Falak is a big fan of crispy chicken, if you are too, give this Crispy Shish Tawook Wrap recipe a try.