Crispy Shish Tawook Wrap
Texture and flavour are the key ingredients to a truly great chicken wrap. We have used Knorr Shish Tawook Seasoning and Knorr Chicken Bouillon to boost taste, while the texture is garnered by fresh rocket and sautéed vegetables. Finally, no wrap is complete without a magic dressing of garlic, mayo and Sweet Thai Chilli Sauce. A true classic with a contemporary do-over!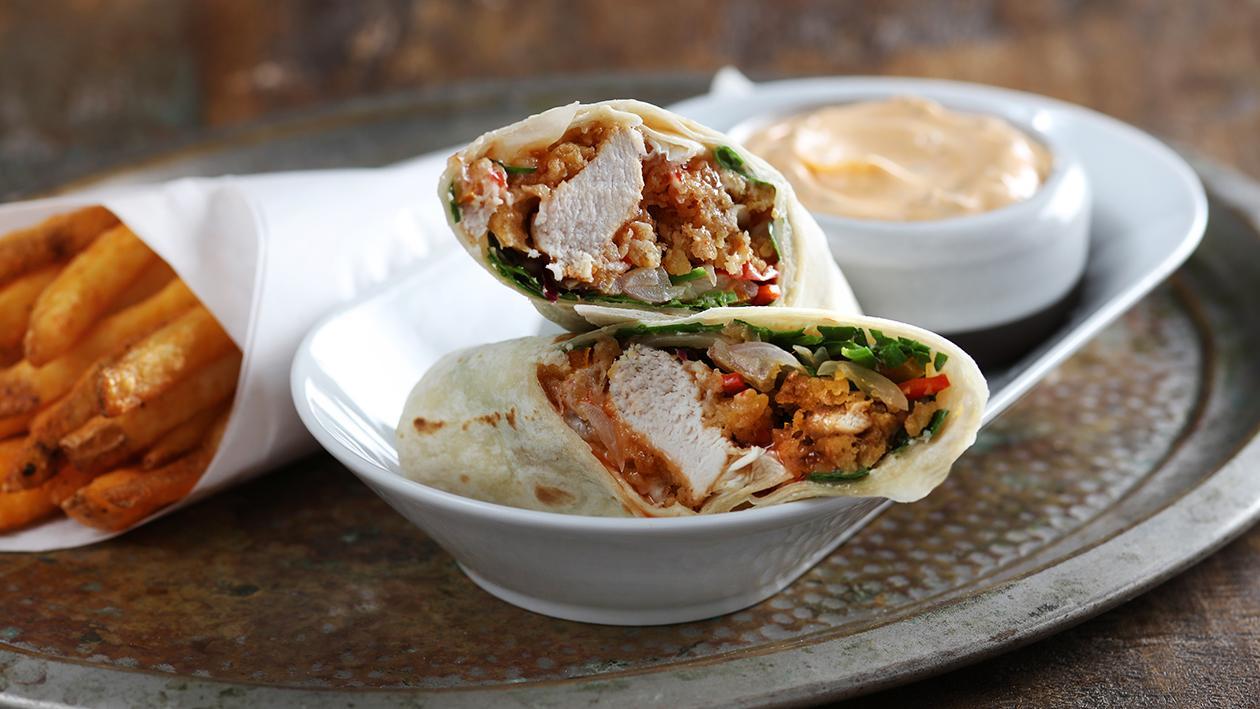 Ingredients
Crispy Chicken Strips:
Chicken breast, strips

1 kg

Knorr Shish Tawook Marinade (6x1kg)

40 g
Salad, Vegetables and Dressing:
Yellow pepper, julienne

100 g

Red pepper, julienne

100 g

Green Peppers, Julienne

100 g
To Serve:
Preparation
Crispy Chicken Strips:

Marinate the chicken strips with garlic, tomato paste, Knorr Shish Tawook Seasoning, corn oil for minimum 4 hours.
Add Knorr Chicken Bouillon Powder to the flour for extra flavour boost. Keep the ice water ready for the frying technique.
To fry with crispy layers: Dust the chicken strips in flour then dip into ice water for a few seconds. Coat the wet chicken once more in the flour creating layers with your fingers by pressing and releasing a few times. Fry the strips last minute until golden brown.

Salad, Vegetables and Dressing:

Sauté onions and peppers in olive oil until tender.
Wash and keep rocket for filling.
Mix garlic paste with Hellmann's Magic Mayonnaise.

To Serve:

Flash heat the tortilla wraps for a few seconds before placing a little mayo on top. Place rocket and sautéed vegetables before adding crispy chicken, more garlic mayo and finally sweet chilli sauce. Close the wrap and serve with french fries.