Chicken Kabsa with Nuts and Dried Fruits
Add a healthy twist to your favourite classic chicken dish, Kabsa by adding a generous amount of nuts, seeds and dried fruits. With this recipe we have marinated the chicken with Knorr Bouillon Powder but seasoned the rice with the classic Knorr Chicken Cube. The flavours meld together to create a tasteful symphony, try it for yourself!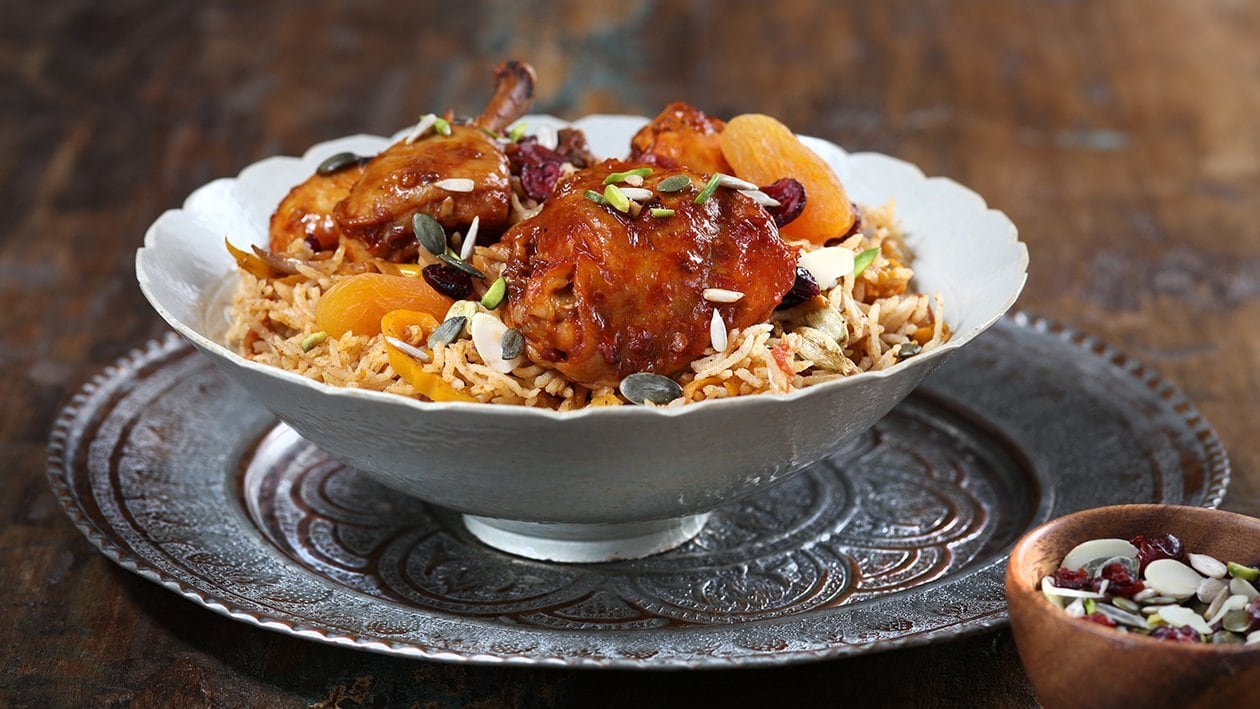 Ingredients
Chicken Marinate:
Preparing Savoury Rice:
Peppers green, julienne

300.0 g

Cranberries, dried

100.0 g
To Serve:
Pistachios, finely crushed

100.0 g
Preparation
Chicken Marinate:

Portion each whole chicken into 8 or 10 pieces. Marinate using corn oil, Knorr Chicken Bouillon Powder, tomato and harissa paste. Allow to absorb flavours for 12 hours minimum.
Place marinated chicken into casserole or oven dish and cook covered with lid or foil for 30 minutes.
Finally grill chicken uncovered for 10 minutes or until golden brown.

Preparing Savoury Rice:

Sweat off the onions in oil before adding the garlic, ginger and chilli and cook till soft.
Add the spices whole and ground, cook for 2 minutes to allow flavours and aromas to come through.
Add the peppers, carrots and cook for 3-4 minutes more.
Once all the ingredients are well mixed and cooking add Tomato Paste and water. Crumble the Knorr Chicken Cubes into the pot and dissolve.
Finally add saffron and the un-soaked rice. Cover with a lid or foil and cook for 15 minutes on low to medium heat or until rice is tender.
Take 50% of the nuts, seeds and dried fruits mix them through the warm rice before serving.

To Serve:

Layer the chicken portions onto the rice and sprinkle the additional nuts, seeds and dried fruits over the dish.