Stargazy Shepherd's Pie
Shepherd pie is another British classic and usually requires mince lamb. Our twist: we use a slowly cooked lamb shank, and leave an appealing bone sticking out of the dish when served.

The name 'Stargazy' is inspired from the British dish where pilchard's heads are sticking out from the pastry. View the full recipe here.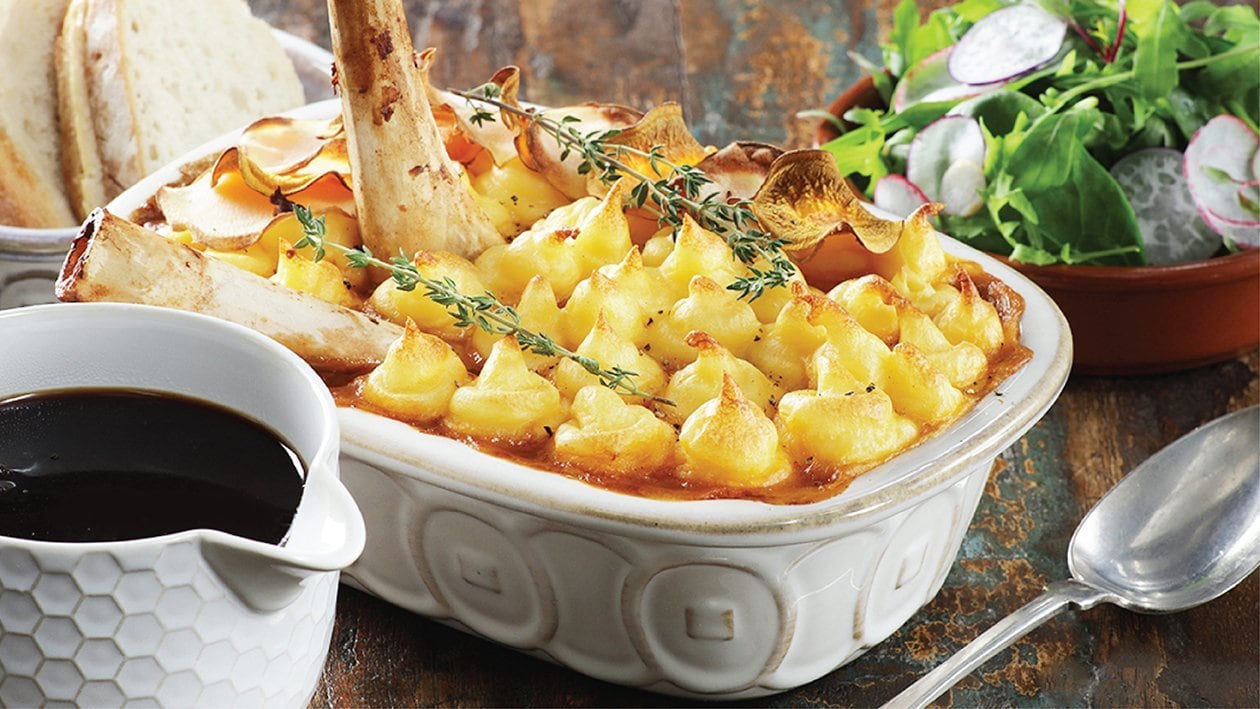 Ingredients
Braising the Lamb:
All purpose flour

100.0 g

Black pepper, crushed

5.0 g

Mirepoix (carrot, onion, leeks)

1.0 pc

Bouquet garni (thyme, bay leaves)

1.0 pc
For the Sauce:
Worcestershire sauce

100.0 ml

Black pepper, crushed

4.0 g
The Mashed Potato:
Cheddar cheese, grated

250.0 g
The Gravy:
Knorr Brown Gravy Base (6x800g)

75.0 g
Plating & Baking:
Potato, think slices, round

100.0 g

Sweet Potato, thin sliced, round

100.0 g
Preparation
Braising the Lamb:

Dip lamb shanks in flour, season with salt & pepper, colour the shanks in oil, golden colour, remove and set on the side in baking tray.
Add mirepoix and bouquet garni.
Dilute Knorr Demi Glace in hot water whisk until dissolved, pour over the lambs.
Cover with aluminum foil and bake in the oven on 160C for 2 hours.

For the Sauce:

Meanwhile, sauté garlic, onion, celery in olive oil.
Add tomato paste and Worcestershire sauce.
Add frozen peas, season with salt and pepper.
Add the mix on top of the lamb tray, cover and bake for another 1 hour.
Remove from oven and set on the side.
Clean meat off the bone, and mix again in the sauce, keeping the bones for another use.

The Mashed Potato:

Bring water to a boil.
Remove and add Knorr Mashed Potato, mix well, add egg yellow and mix well, add the grated cheddar cheese, and salt.

The Gravy:

Bring hot water and Knorr Brown Gravy Base together and whisk over medium heat, simmer until thick for up to 10 minutes. Serve on the side.

Plating & Baking:

Using oval baking deep plate for two persons, add ragout mix, stick two pieces of bones.
Pipe mashed potato and lay slices of potato as show in the photo. Brush with melted butter and bake in oven for 25 minutes or until hot from inside and golden colour.
Serve with side salad, slices of bread and Knorr jus sauce.