Burrata & Fava Bean Salad
Also called broad beans, the subtle sweetness and buttery texture of Fava beans goes well with burrata. The beans are also an excellent source of protein. See the Burrata & Fava Bean Salad recipe here.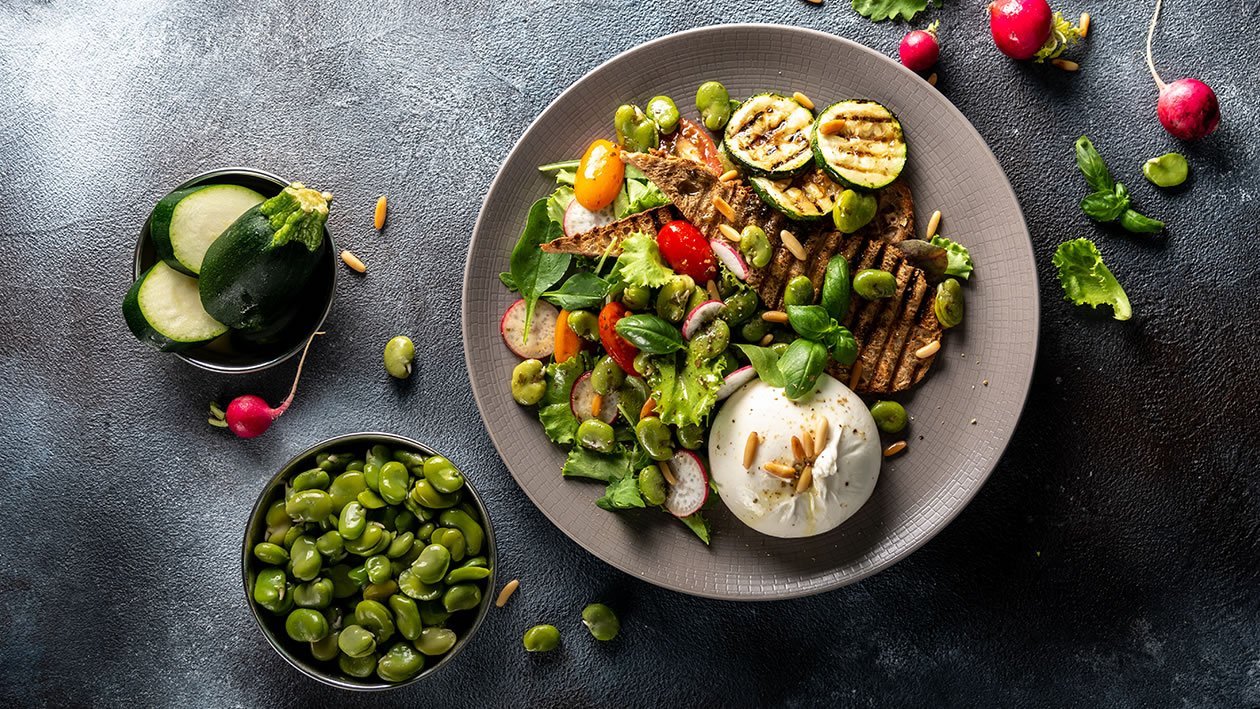 Ingredients
Burrata & Fava Bean Salad:
Fava or broad beans, frozen

300 g

Cherry tomatoes, sliced into half

200 g

Black pepper, crushed

1 g

Extra virgin olive oil

145 ml

Cereal loaf bread, slice

10 pc

Baby red radish, sliced thinly

100 g

Black pepper, crushed

1 Pinch
Preparation
Burrata & Fava Bean Salad:

Wash and dry all the vegetables needed in the recipe.
Blanch fava beans and peel.
Slice cherry tomatoes in half and keep on the side.
Slice courgette, season with salt, pepper and olive oil, grill on both sides, let it cool.
Brush bread with olive oil and grill on both sides.
Wash and trim the basil and parsley leaves.
Combine it with Knorr Chicken Powder or vegetable seasoning, garlic cloves and a pinch of crushed black pepper in a food processor.
Pulse to combine all the ingredients together while slowly drizzling in the olive oil.
Taste and adjust seasoning, then, lightly brush on one side of the toasted bread.
Combine cherry tomato, grilled courgette with balsamic dressing.
Arrange the ingredients on a chilled plate. Drizzle with basil oil.
Garnish with pine nuts and black pepper.