Christmas season is nearly there – so get ready to serve your guests a delicious Christmas menu. We have great recipe inspiration to offer just for you. Know more about christmas spices to use in your kitchen for this delicious season.

What makes a great stuffing
A delicious stuffing is key to your Christmas menu. There are plenty great recipes and techniques to make your stuffing stand out – but sometimes time is short.  The most common stuffing for Christmas is probably sage and onion which you can try to refine with extra ingredients such as dried fruit.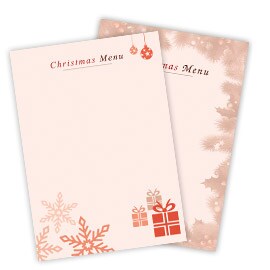 Christmas menu cards
Download our set of menu cards to individualise your Christmas menu. We provide you with a .zip file including PDF and word documents for you to choose and edit. Enjoy!

Download now
These spices are perfect for Christmas season. They give this festive taste and smell to get everybody in the mood. Get inspired by our recipes all making use of these Christmas spices – for your sweet and savoury menu.

Cinnamon can be used in form of sticks or powder. It should be stored  in a cool, dark and dry place as it otherwise quickly loses its flavour. 
Cardamom: The spicy-sweet cardamom for instance is a great source of iron and is native to southern India. It gives an exotic, unique taste and can be perfectly combined with cinnamon and ginger. 
Cloves can be used in sweet and savoury dishes and go extremely well with red meat and apples. Use them to refine your dishes.
When buying fresh Ginger, make sure its firm and not wrinkled. It should be finely chopped or grated to unfold the full spicy-exotic taste.
Vanilla with its sweet aroma perfect for Christmas baking. Scrape the seeds out of the pod or use vanilla extract. Did you know that the vanilla pods are obtained from a tropical climbing orchid? 
Want to stay up to date with our special occasions content all year round? Sign up to our newsletter and make sure you don't miss any seasonal updates!