Kibbet Battata
Kibbet Battata one of the famous traditional Lebanese appetizer, these potato croquettes are usually stuffed by meat and onion but you can make it with a different filling as you like.
Appetizer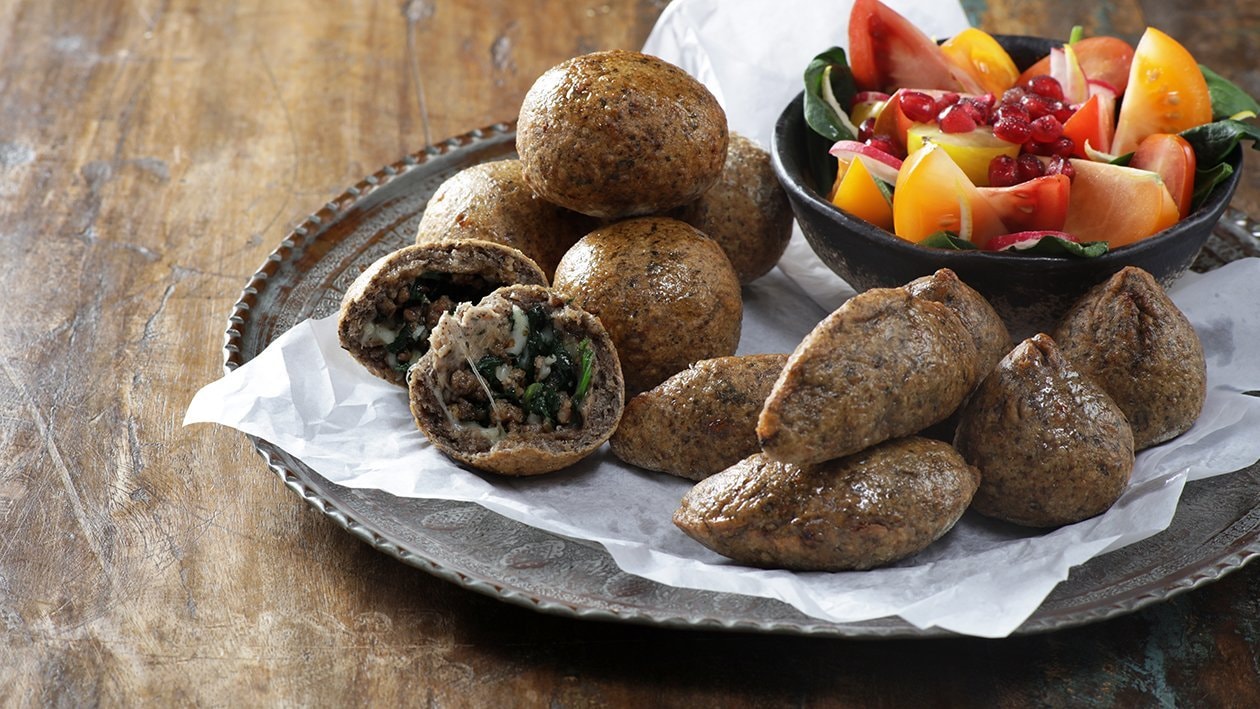 Ingredients
Prepare Filling:
Pinch of crushed black pepper

50.0 g

Lamb meat, minced

400.0 g

Spinach, blanched, chopped

200.0 g

Mozzarella cheese, shredded

100.0 g
Prepare Dough:
Black pepper, powder

5.0 g

Bourghul, finest grated

200.0 g
Preparation
Prepare Filling:

In a fry pan over medium heat add olive oil, and sauté chopped onion until translucent, add minced meat and sauté for 10 minute or until meat becomes dry, add spring onion and spinach Basil Pesto and sauté until blended.
Add Knorr Arabic Spices Mix, set aside to cool, once cooled add mozzarella.

Prepare Dough:

In a saucepan boil water, once water boils remove from the heat and add Knorr Mashed Potato to make potato puree.
In a bowl combine bourghul and potato puree, add onion and knead mixture until just starts to stick together, add flour, Knorr Arabic Spices Mix and dry mint, continue knead by hands until homogenous malleable paste is achieved. Cover and refrigerate for 30 minutes.
Have already a bowl of iced water to wet hands. Divide kibbeh dough and stuffed by filling equally then roll into balls, try to sharp sides. Refrigerate until ready to use or freeze for future use.
In a deep fryer at 180°C, fry the shells are evenly golden brown color and crispy. Alternatively brush the shells with olive oil and bake in a pre-heat oven 190°C for 20 minutes.