Temaki Style Sandwiches
Here's an interesting fusion of flavours and style. Taking the Japanese Temaki style of serving different fillings. Our recipe plays with grated vegetables, minced lamb and chicken marinated with Knorr Shawarma Seasonings and avocado salsa.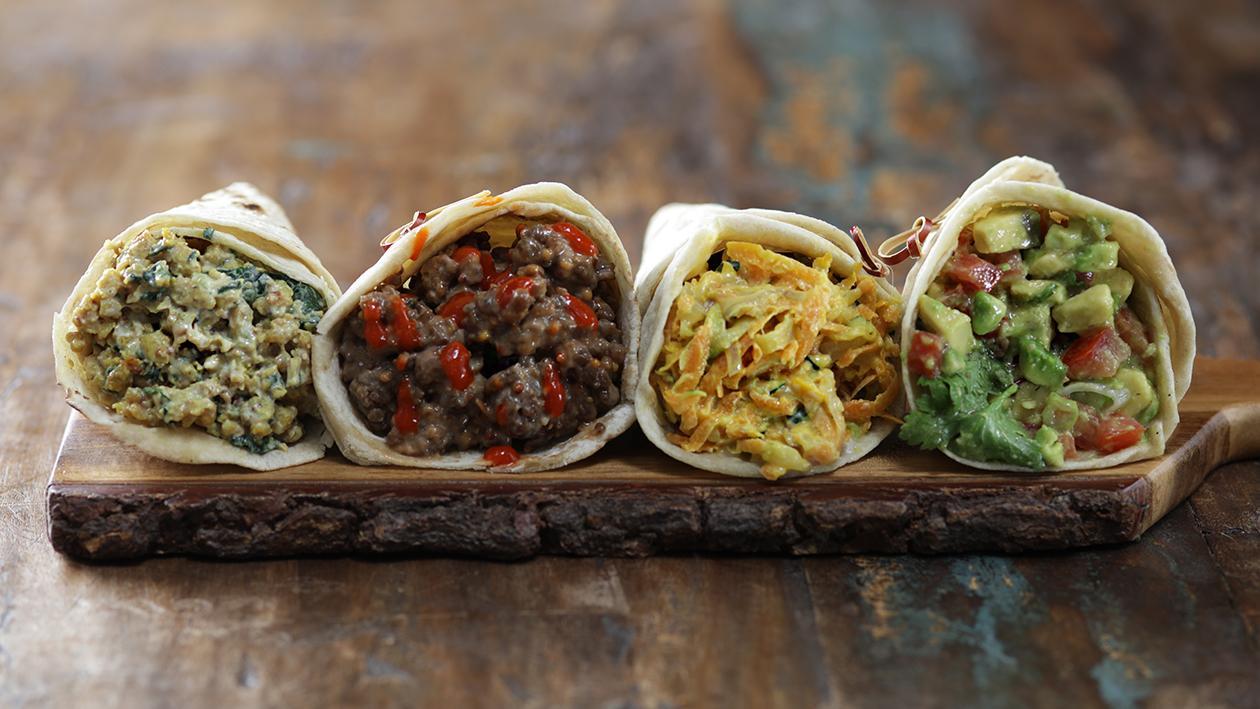 Ingredients
Chicken:
Lamb:
Vegetable:
Zucchini, yellow, grated

150 g

Zucchini, green, grated

150 g
Avocado Salsa:
Avocados, halved, sliced

600 g

Coriander, fresh, finely chopped

80 g
Wraps:
Preparation
Chicken:

Sauté chicken and garlic until golden brown, season with Knorr Chicken Shawarma Seasoning, turmeric and Knorr Lime Seasoning Powder.
Allow to cool down before adding Hellmann's Real Mayonnaise.

Lamb:

Sauté lamb mince until golden brown and season with Knorr Beef Shawarma Seasoning, don't cool down completely as the fat in the lamb mince will harden, add Hellmann's Real Mayonnaise and Knorr Smokey BBQ Sauce.
Keep the Sriracha chilli to drizzle on top of the roll before serving.

Vegetable:

Grate or julienne the vegetable before sautéing in a pan and seasoning with Knorr Vegetable Stock. Make sure the potato is cooked through.
Once veg is cooled down add Hellmann's Real Mayonnaise.

Avocado Salsa:

Mix all the vegetable and herb together and marinate with Knorr Lime Seasoning Powder.

Wraps:

Once ready to serve, select which fillings to serve warm and which to serve cold. We recommend the lamb and chicken to be heated.
Lightly flash the tortilla wraps in a pan. Slice them in half and wrap into cones. Securing the cones with wooden skewers.
Add the fillings and serve on wooden board with fresh fries or side salad.