Okra Hush Puppies
Okra can be a love-hate ingredient due to the texture, but in this classic American fritter application, fresh okra shines and marries well with the crunch of the corn meal making for a fun addition to a casual dining concept with the Okra Hush Puppies with Smokey BBQ Dip. Check the recipe below.
Appetizer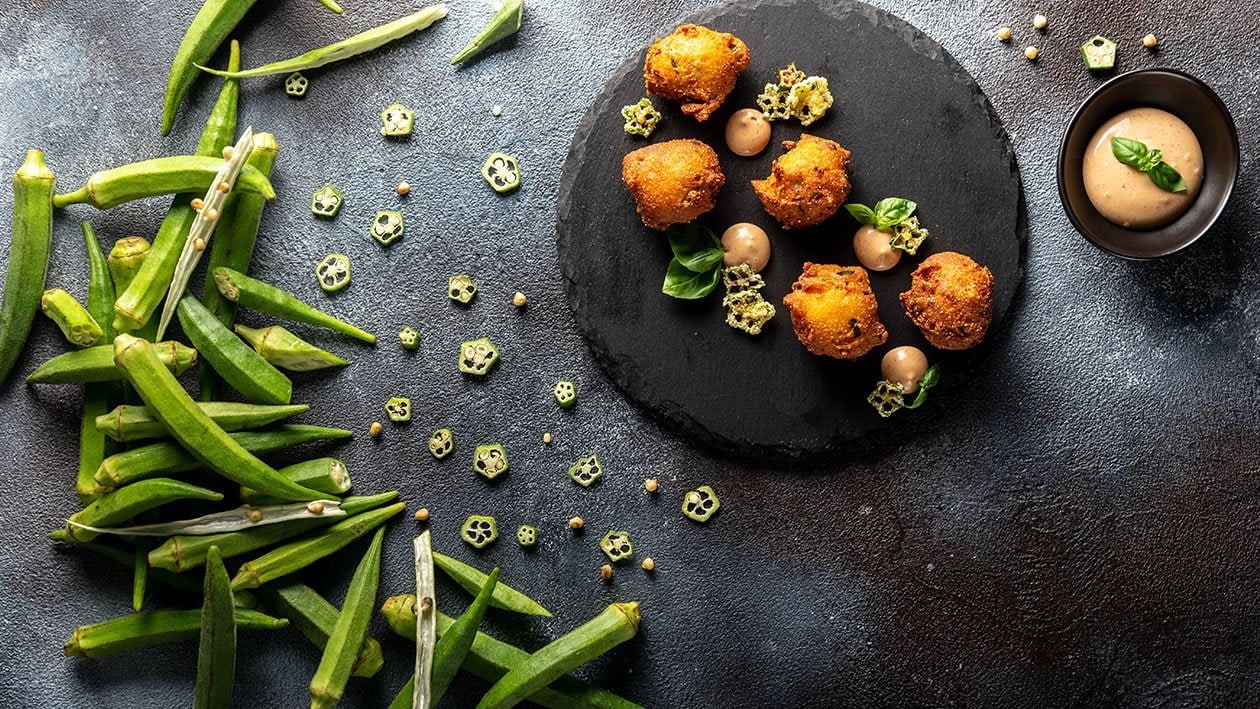 Ingredients
For the Mayonnaise:
Black pepper, crushed

1.0 g
For the Hush Puppies:
All purpose flour

130.0 g

Onion, finely chopped

25.0 g

Okra, fresh, cleaned and sliced

120.0 g

Butter, unsalted softened

40.0 g
Preparation
For the Mayonnaise:

Whisk together all ingredients, serve in a bowl or squeeze bottle for plating.

For the Hush Puppies:

Preheat a deep-frying machine to 180°C.
In a medium bowl, whisk together flour, corn meal, baking powder, garlic powder, sugar and Knorr Chicken Powder.
In another bowl, add milk, white vinegar and allow it to sit at room temperature for 10 minutes before adding the eggs. Whisk together until well combined.
Make a well in the middle of the dry ingredients and add the wet ingredients. Combine with a rubber spatula until ¾'s mixed, then add okra and butter and continue to fully combine. Do not over mix.
Drop 'teaspoon' sized of batter into the preheated oil and allow them to become a rich golden brown, making sure to rotate them occasional to ensure even browning. This should take 5 to 7 minutes.
Remove and serve hot with Smokey BBQ Mayo.