Custard Kunafa
Designed for professional chefs, check out this Custard Kunafa recipe: cooking instructions broken into components, full list of professional ingredients, chefs' preparation secrets. Master this recipe with products like: Carte D'or Vanille Mousse.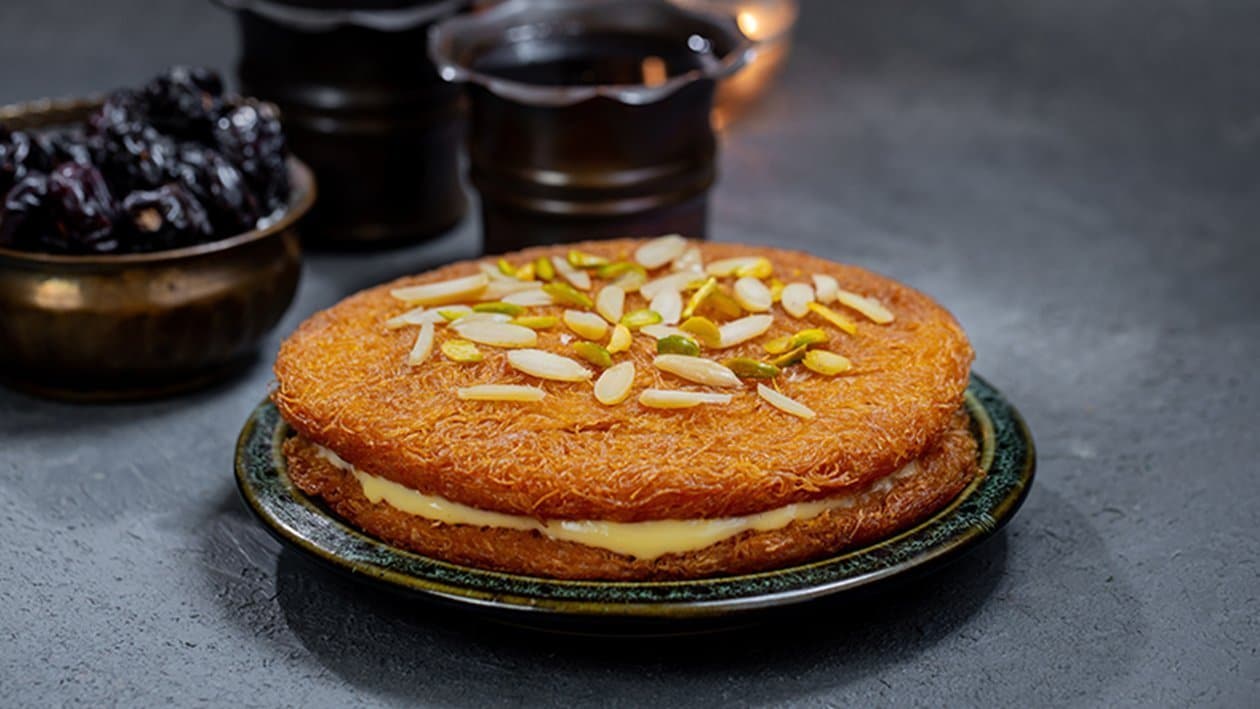 Ingredients
Custard Kunafa
Custard Kunafa:
Clarified butter
/g
250.0 g
0%
Carte D'or Vanille Mousse (6x1Kg)
/g
50.0 g
0%
Sugar Syrup
/ml
450.0 ml
0%
Custard Kunafa:
Preparation
Custard Kunafa:

Place Vermicelli in a large bowl and pour over enough boiling hot water to cover it. Let it sit for 2-3 minutes till it softens. Avoid over-soaking, as it will make vermicelli mushy. Strain well.
In a small frying pan, add 3-4 tbsp ghee (clarified butter). Evenly spread a generous amount of soft vermicelli, which covers the entire surface. Cook vermicelli until golden brown on each side. This may take around 8-10 minutes. Repeat this process until you have enough circles to assemble. Each Kunafa uses two Vermicelli rounds/circles.
In a saucepan, bring milk to a boil; add sugar and simmer for a few minutes.
Mix Carte D'or Vanille Mousse with 4 tbsp of water; pour in the milk while stirring to avoid any lumps. Cook on medium heat till it thickens. Turn the heat off and cool it.
Pour a generous amount of custard in between two layers of the fried vermicelli circles.
Abundantly pour lukewarm sugar syrup on top; let it sit for 10 minutes then press a few times to help it absorb the syrup properly.
Garnish with crushed pistachios and almonds.