Arabic Flat Bread with Lime Teriyaki King Prawn Salad
This is a Middle Eastern twist to an Asian flavoured meal. The lime really brings out the taste of the prawn & teriyaki salad. View our recipe below!
Appetizer
Seafood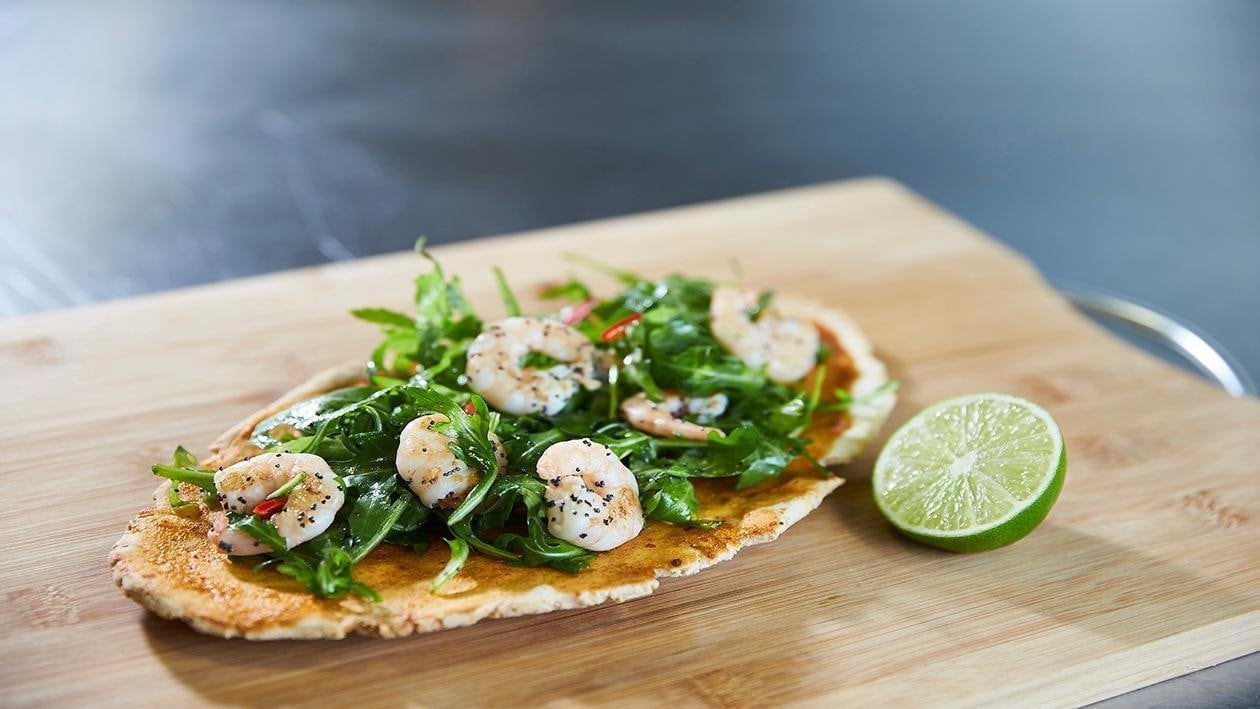 Ingredients
Advanced preparations:
Dough:
Making the flat bread:
Garnish:
Fresh mint leaves

200.0 g
Preparation
Advanced preparations:

Set the oven to 200°C.
Rub 10ml of oil onto each baking tray and dust with the ground semolina. Do this 4 times.
Ensure all prawns have been cleaned and deveined.
Finely slice the spring onions.

Dough:

Put the caster sugar, rice flour, potato starch, tapioca flour and salt into a mixing bowl. Using the dough hook start to mix the dry ingredients together.
Slowly add the milk, eggs and vinegar into the mix.
Once it forms a smooth dough take out and divide into 10 even balls and cover with clingfilm.

Making the flat bread:

Place the dough directly on the tray and roll into an oblong (these need not be uniform).
Bake at 200°C for 12 mins or until they are cooked and crisp.
Marinade prawns in Knorr Lime Seasoning and Knorr Teriyaki Sauce for maximum 20 minutes. Whilst plat breads are cooking place a large frying pan on the heat and sauté in 20 ml of corn oil the prawns making sure they are coloured on both sides. Place the prawns in a large bowl and keep hot.
Add the rocket and spring onions and toss all in together before layering onto the warm flat breads and serving.

Garnish:

Add some fresh herbs like mint or coriander on top and place a slice of fresh lime next to it.