Tofu Quiche
One of the most popular by-products of soybeans is tofu.  A widely used ingredient in Far-Eastern cuisine, tofu is an ideal substitute for meat since it has high protein content.   In this quiche recipe, the egg is replaced with tofu.  It is also responsible for its creamy and smooth texture. Check the recipe here.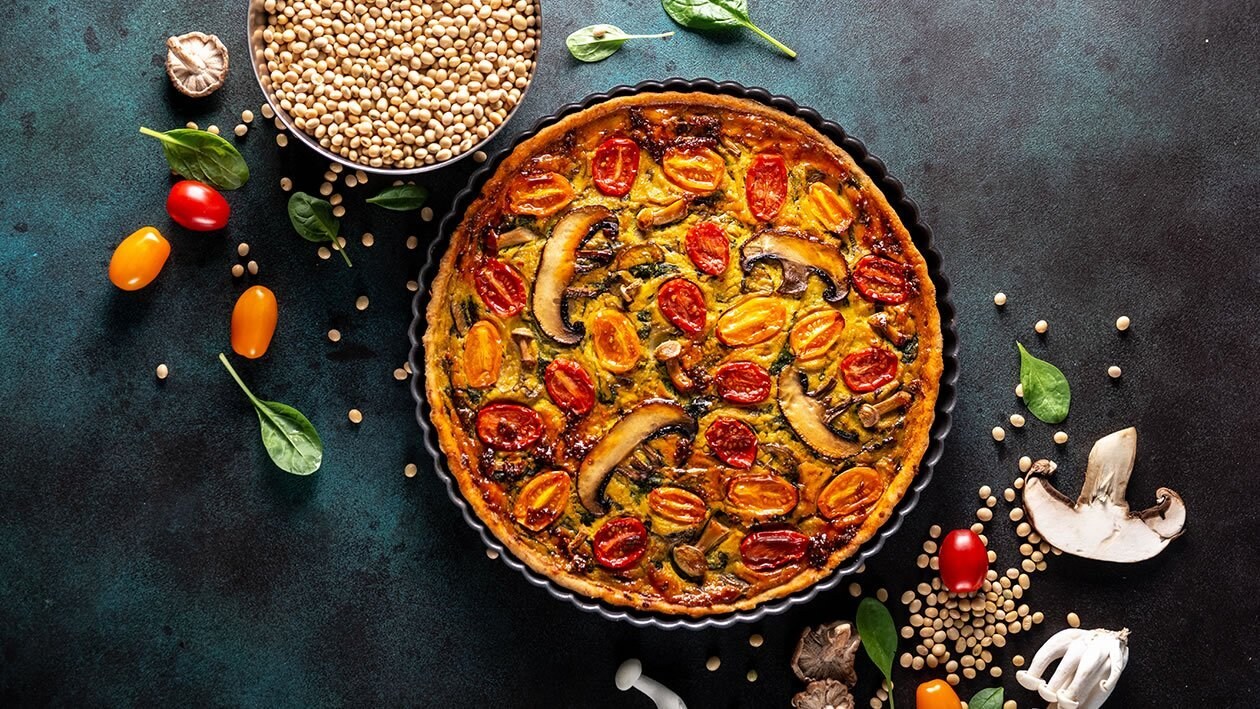 Ingredients
Tofu Mix:
Mushroom (white or brown), mix sliced

400.0 g

Firm tofu, drained

750.0 g
The Crust:
Vegetable shortening

225.0 g
The Quiche:
Red cherry tomato, sliced into half

250.0 g

Yellow cherry tomato, sliced into half

50.0 g
Preparation
Tofu Mix:

In a sauté pan over high heat, add the olive oil. Sauté the onions, garlic and mushroom. Season with Knorr Professional Arabic Spices Mix and pepper.
Add the spinach and slightly wilt, remove from heat and cool down completely.
In a food processor, remove tofu from water and squeeze, blend tofu with turmeric, chilli, garlic powder, non-dairy milk, season with Knorr Professional Arabic Spices Mix and pepper, and add the flour, blend until smooth.
Set on the side.

The Crust:

Ensure that all tools to be used for making the crust are well chilled. (Place the whisk, food processor jar & blade, pie tins in the chiller for at least 30 minutes prior to making the crust).
Whisk together the flour, salt and sugar, cut the vegetable shortening into cubes and sprinkle over the flour, use a fork or pulse in a food processor and blend into the flour until you get a crumbly consistency.
Now pour over the non-dairy milk and continue pulse blend the dough until over, do not over mix remove the dough.
Sprinkle flour on a clean surface and roll the dough.
Divide into 10-inch quiche or tart crust pie tin. Shape and press evenly.
Pierce the dough and pre-bake for about 15 minutes at 180°C or until lightly browned.
Remove from oven and cool down.

The Quiche:

After baking the crust, turn down the oven to preheat to 175°C.
Fill the tofu mix in the pre-baked pie shell.
Carefully arrange the sliced cherry tomatoes on top. Gently press them into the tofu mixture.
Bake in oven for 40 minutes or until a toothpick comes out clean when inserted.
Serve with side salad.