Three flavours of Turkish Pide
Turkish pide are breads that have a centre of filling - be it beef, cheese or vegetarian. Pide is usually shaped in an oval or "boat" or round shape and is commonly described as a Turkish pizza. On this recipe you will find foul madamas.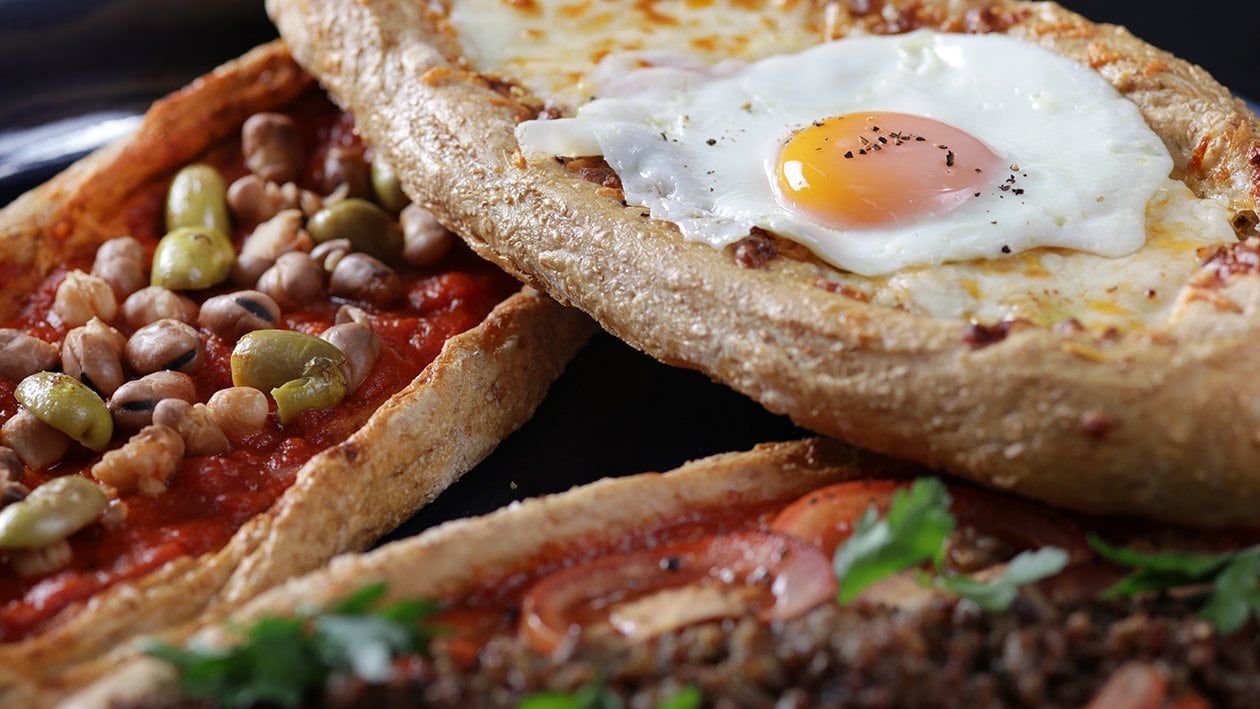 Ingredients
Dough:
Flour, brown wholemeal

500.0 g
Filling 1:
Knorr Beef Shawarma Marinade (6x750g)

20.0 g

Chopped parsley, leaves only, no stems

20.0 g
Filling 2:
Foul Madamas, canned

100.0 g

Medium tomato, coarsely chopped

100.0 g
Filling 3:
Mozzarella cheese, grated

250.0 g

Cheddar cheese, grated

200.0 g
Preparation
Dough:

Make the dough. Add the flour, yeast, sugar, 275ml water and oil (do not add salt yet). Knead on a lowest speed until elastic. Add more water if needed. Form into a large ball and then place in a large bowl (the mixer bowl will do) and cover with cling film and allow to rise until triple in size, about an hour.
Line three trays with parchment and preheat oven to 180°C. Punch down the dough and knead the salt in at the lowest speed. Allow to rest for 5 minutes and then shape into a log. Divide into 8- 12 pieces and flour the bench well. Keeping the dough covered, take 1 piece and shape it into fat rectangle or oval.
It doesn't really matter how long they are but I kept mine around the same size so I could fit them on the tray. Gently lift the dough rectangle to the lined tray. Fill the centre the three fillings. mixture. Fold over the sides to enclose the mixture. Then brush the edges with the extra oil. Bake for 12-15 minutes.

Filling 1:

Sauté lamb mince, onion and garlic in oil or butter until golden brown, season with Knorr Beef Shawarma Marinade.
Use the diced tomato as a base sauce, layer the cooked mince inside the dough, spread the sliced tomato around the outside & garnish with parsley once baked.

Filling 2:

Heat the diced tomato and Red Pesto in a pan and use as a base sauce.
Layer the olives and foul madamas on the tomato mix & bake.

Filling 3:

Sprinkle mozzarella and cheddar cheese inside the dough, add the egg before baking or as per image cook the egg separately. Season with Knorr Vegetables Stock.