Spring Rolls
Designed for professional chefs, check out this Spring Rolls with Vermicelli Noodles recipe: cooking instructions broken into components, full list of professional ingredients, chefs' preparation secrets. Master this recipe with products like: Knorr Far East Seasoning and Knorr Professional Thai Sweet Chilli Sauce.
Appetizer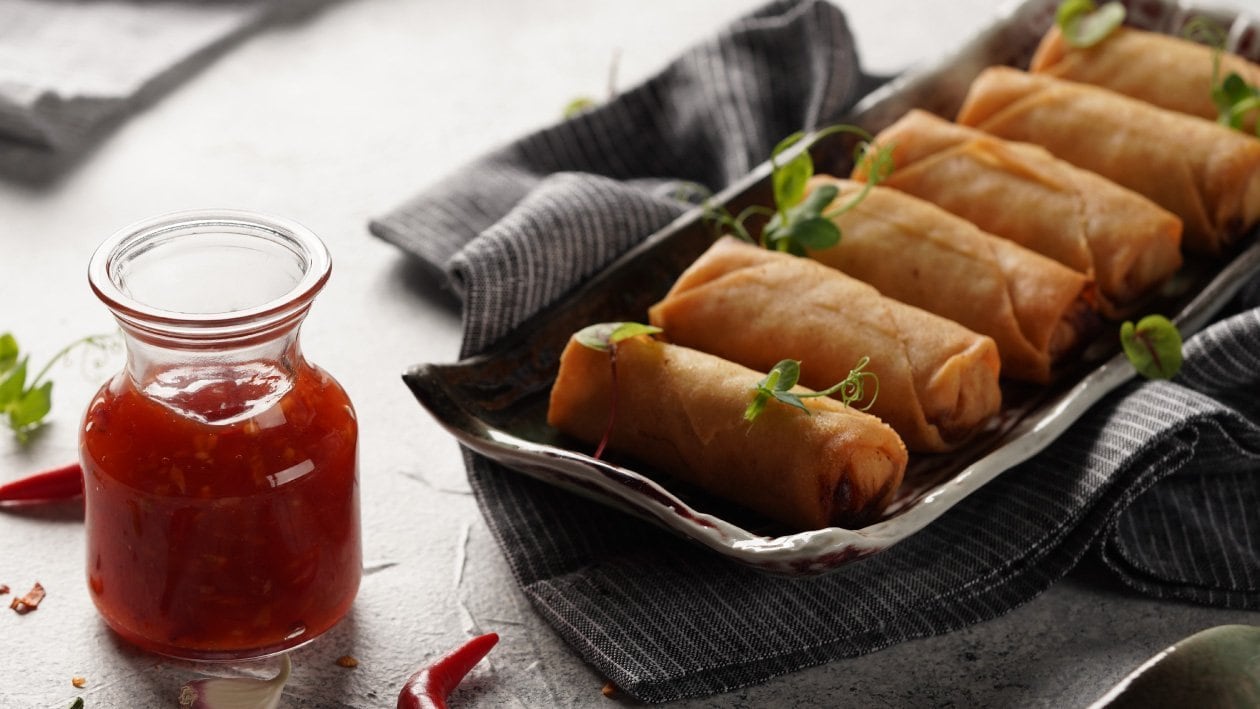 Ingredients
Spring Rolls:
Oil (canola, soya, peanut or corn oil)

45.0 ml

Onions, finely sliced

50.0 g

Ginger, finely minced

20.0 g

Carrots, fine julienne

80.0 g

Green beans, sliced thinly diagonally

80.0 g

Vermicelli noodles, soaked in water, cut into m 3 inch segments when softened

50.0 g

White pepper, ground

3.0 g

Chinese cabbage, fine chiffonade

300.0 g

Coriander, fresh, finely chopped

3.0 g

Spring roll sheets, medium size

15.0 pc

Cornflour, diluted in 30ml water

15.0 g
Serving Suggestion:
Preparation
Spring Rolls:

Makes 12-15 small rolls.
Heat a wok over a high heat. Add the oil.
Add the onions, garlic and ginger and carrots. Sauté for a few more minutes, or until softened.
Add the beans along with the vermicelli.
Season with Knorr Far East Seasoning and pepper. Drizzle with sesame oil. Taste and adjust seasoning.
Transfer to a bowl to cool slightly and drain off any excess moisture.
When the mixture is cooled down. Toss in the beansprouts, cabbage and coriander leaves. Tip: Adding these vegetables raw will give the filling crunch and texture after they have been fried. Option to cook with the rest of the vegetables can also be done.
To make the spring rolls, lay a layer of spring roll pastry on a clean work surface with a corner facing toward you.
Place 1 tablespoon of the vegetable mixture on the corner of the pastry and begin to diagonally roll the pastry up tightly around the filling. When you get to the middle of the pastry, fold in the corners from either side and brush a little of the cornflour mixture on to the remaining corner, finish rolling up and press together to seal.
Repeat with the rest of the mixture and pastry.
Fill a deep saucepan with oil and heat to 180°C. Deep-fry the spring rolls in batches for 2–3 minutes, until golden brown and crispy.

Serving Suggestion:

Serve with Knorr Professional Thai Sweet Chilli Sauce on the side.