Smoked Chicken Pot Pie Burger
The ultimate comfort food gets the burger treatment: ground chicken sliders topped with pot pie filling featuring carrots, squash, parsnips and peas. We used a biscuit burger bun which tastes just as great as it sounds unique; try out the recipe below today!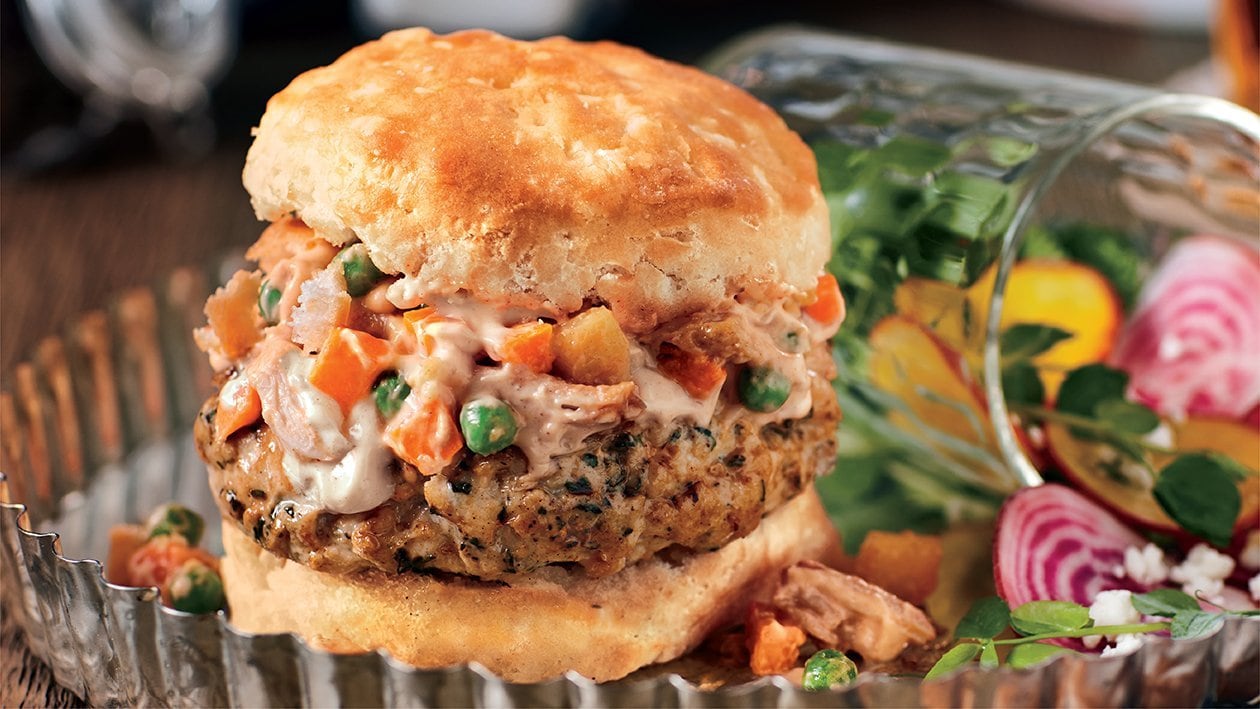 Ingredients
Pot Pie Filling:
Pinch of crushed black pepper

40.0 g

Parsnip, medium, small dice

200.0 g

Smoked chicken, pulled

1000.0 g
Preparing the Chicken Patties:
Chicken, breast, minced

1500.0 g
Building the Burger:
Pot Pie Filling, prepared

1000.0 g

Biscuits Burger Buns

10.0 pc

Seasoned Chicken Patties, prepared

10.0 pc
Preparation
Pot Pie Filling:

Sauté parsnips, peas, carrots, shallots, and butternut until softened. Season with Knorr Poultry Seasoning and set aside to cool down.
Next fold in Hellmann's Sandwich Mayonnaise, smoked chicken and paprika.

Preparing the Chicken Patties:

Combine the minced chicken with mustard, thyme and garlic. Season with Knorr Chicken Stock Powder.
Shape into 150g chicken patties & grill until cooked about 4 min each side.

Building the Burger:

This burger has a really easy build. Simply cut open biscuit bungs & place the chicken patties inside, topped with the pot pie mix.
Close up the burger and serve.