Oxtail and Mung Bean Stew
Known for being a rich source of protein and fiber, mung bean can also help lower bad cholesterol.

Mung Bean Stew is a staple lunch option in Filipino cuisine. Check our recipe for Oxtails and mung bean stew below.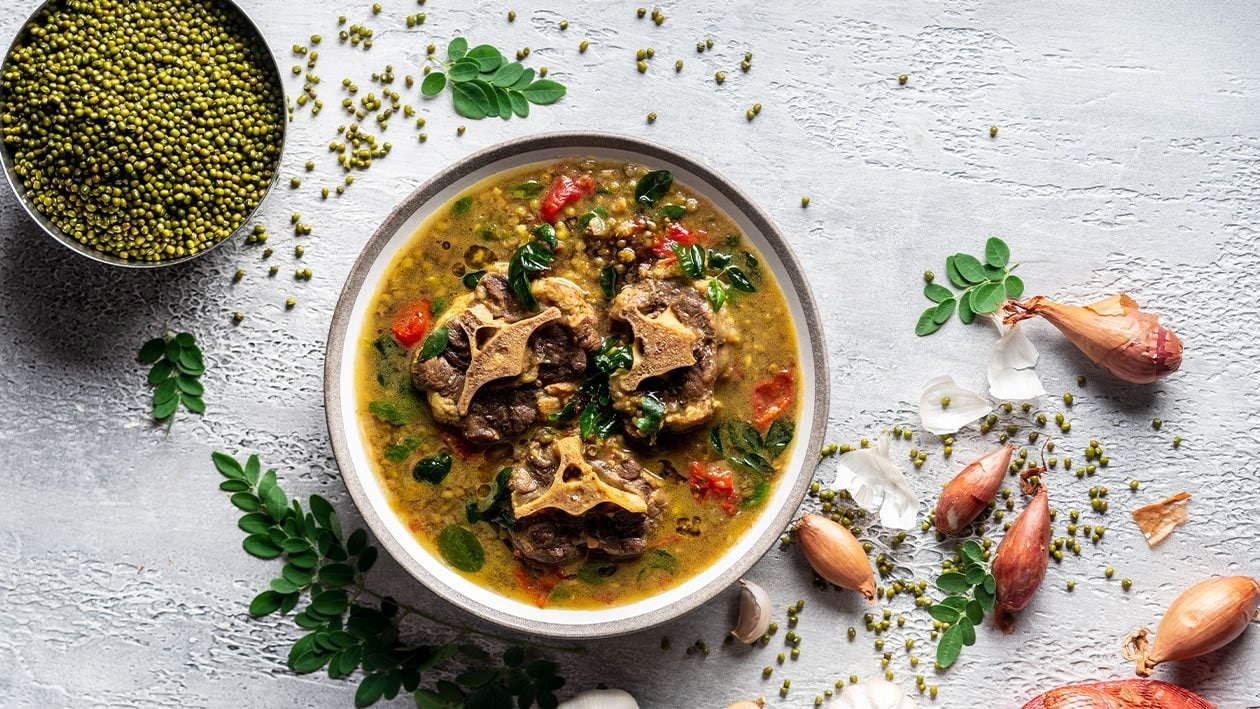 Ingredients
For the Mung Bean Stew
For the Beef Oxtail:
Oxtail, cut into 3cm thickness

2.0 kg
To Cook:
Red onions, small dice

150.0 g

Garlic cloves, crushed

50.0 g

Tomatoes, small dice

300.0 g

Liquid from cooking the mung bean

3.0 l
Dressing:
Parsley, finely chopped

5.0 g
Preparation
For the Mung Bean Stew

Place the beans, water and spices in a pot. Bring to a boil. Cook the beans until they are about 80% done. Save the cooking liquid.

For the Beef Oxtail:

Heat oven to 350F.
To prepare the oxtail, drizzle each piece with oil and season with salt and pepper.
Brown the beef in the oven for 15-20 minutes. Flip the beef to brown both sides evenly.
When done, remove the oxtail from the pan and set them aside.

To Cook:

Heat a heavy bottom sauce pot over medium high heat.Add the canola oil. Sweat onions, garlic and tomatoes.
Deglaze the pan with the fish sauce. Let the fish sauce cook out to breakdown the vegetables and release aroma.
Add the browned oxtail.Stir to combine.
Add the garam marsala and turmeric powder. Stir to lightly toast the spices and combine with the rest of the ingredients.
Pour in the cooking liquid from the beans and the Knorr Beef Flavor Stock Powder.
Bring to a boil and turn it down to simmer. Simmer for 30-40 minutes or until the oxtail is tender.
When the oxtail is almost done, add the precooked beans to the pot. Simmer until both ingredients are tender.Taste and adjust seasoning.
Add the moringa leaves. Turn off the heat.

Dressing:

In a separate bowl, make the balsamic dressing. Whisking together the vinegar, seasoning, honey and drizzle in the olive oil.
Transfer the mung bean onto a large soup plate. Arrange the oxtail in the center of the mung beans. Drizzle the dish with balsamic dressing and sprinkle with fried shallots and chopped parsley. Serve immediately.