Chicken Curry Raviolis with Coriander Pesto
Raviolis are extremely versatile as you can use almost any filling inside. We add a stroke of genius in the pasta dough of this recipe: Knorr Chicken bouillon powder. The raviolis have a chicken curry filling accentuated by the chicken flavoured pasta dough, contrasting well with a creamy Hollandaise-like sauce and coriander pesto.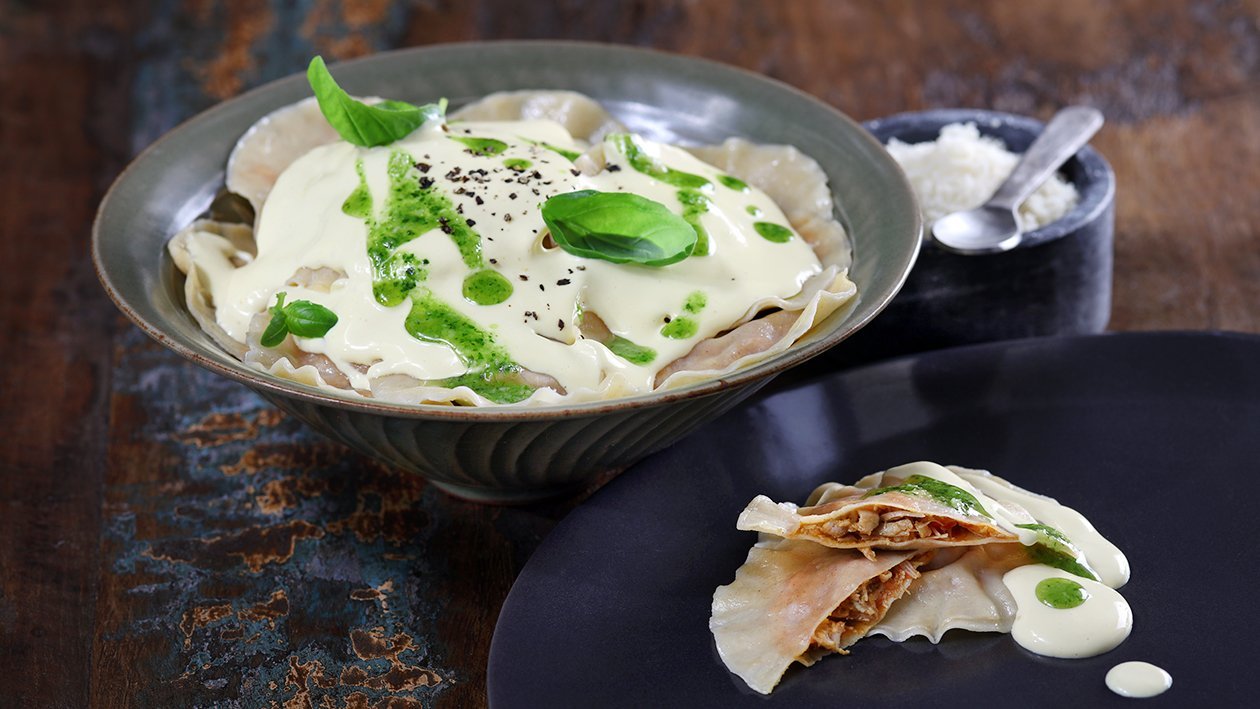 Ingredients
Curry Chicken Filling:
Red Thai curry paste

200.0 g

Chicken thigh, deboned

1500.0 g
Pasta Dough:
To Serve:
Grated Parmesan cheese

300.0 g

Knorr Hollandaise Sauce (6x1L)

1.0 l
Preparation
Curry Chicken Filling:

Marinate the chicken with garlic, ginger, Thai red curry paste and corn oil minimum 4 hours.
Once curry is cooked finish off with Knorr Chicken Bouillon Powder and chill down. Shred the chicken into small pieces.

Pasta Dough:

Form a well and place the eggs, oil and Knorr Chicken Bouillon Powder in the centre. By hand mix the wet and dry ingredients until a firm dough is formed. Knee the dough until smooth and shiny. Rest in chiller for 30 minutes.
Roll out the pasta sheets, add the chicken curry filling. Cut and shape your raviolis to the desired size and shape.

To Serve:

Heat the Knorr Hollandaise Sauce and thin down with water, while boosting the chicken aroma with Knorr Chicken Bouillon Powder.
Blanche the raviolis and cover with sauce, drizzle coriander pesto and serve with grated parmesan cheese.