Moussaka with Crispy Potatoes
Fancy a Greek dish on your menu? Check out this recipe for Moussaka. It includes sliced eggplant baked in a ground beef bolognaise sauce, topped off with crispy potato croutons. Include it in your menu this season!
Appetizer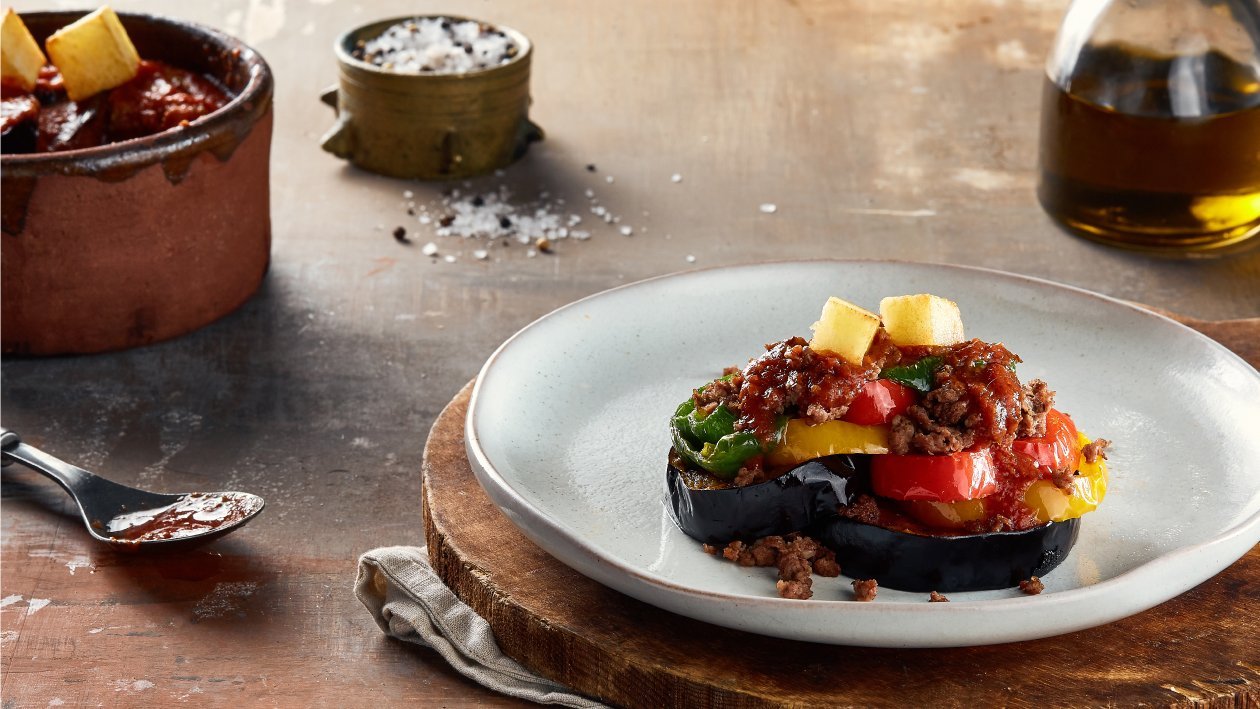 Ingredients
Minced Beef:
Onion, finely chopped

100.0 g
The Sauce:
The Vegetables:
Red onion, slices

150.0 g

Potatoes, cut into small dice

300.0 g

Tri colored peppers, sliced

200.0 g

Grated Parmesan cheese

50.0 g
Preparation
Minced Beef:

In a large cooking pot over medium heat, add ground beef and cook a few minutes until brown in colour. Add the chopped onion, cook for 3 minutes then add the oregano and Knorr Beef Flavored Stock Powder to make the sauce.
Reduce until mince beef mixture is semi-dried.

The Sauce:

In a sauce pan heat up the olive oil then add the garlic and cook it for 2 minutes then add the tomato paste and cook for one more minute.
Then add the tomatoes and the water season it with Knorr Beef Flavored Stock Powder, black peppers and cumin. Let it simmer for 20 minutes.

The Vegetables:

Start frying the sliced onion, then fry the eggplant, then zucchini, and peppers.
For the potatoes after you cut it to small cubes let it set for 30 minutes in warm water at about 50°C. Then strain and fry until it's crispy.
To shape the moussaka.
In 10 small earth pots place the meat mix in first then sauce then zucchini, sauce again, peppers, sauce again onions, sauce. Then eggplant and pour the sauce and bake in the oven for 20 minutes at 170°C.
Sprinkle the top with the potato crotons and parmesan cheese.