Chicken Kebab
These Chicken Kebab skewers are so versatile, they can be grilled, baked in the oven or cooked on the BBQ. A new healthy version of your favorite takeaway.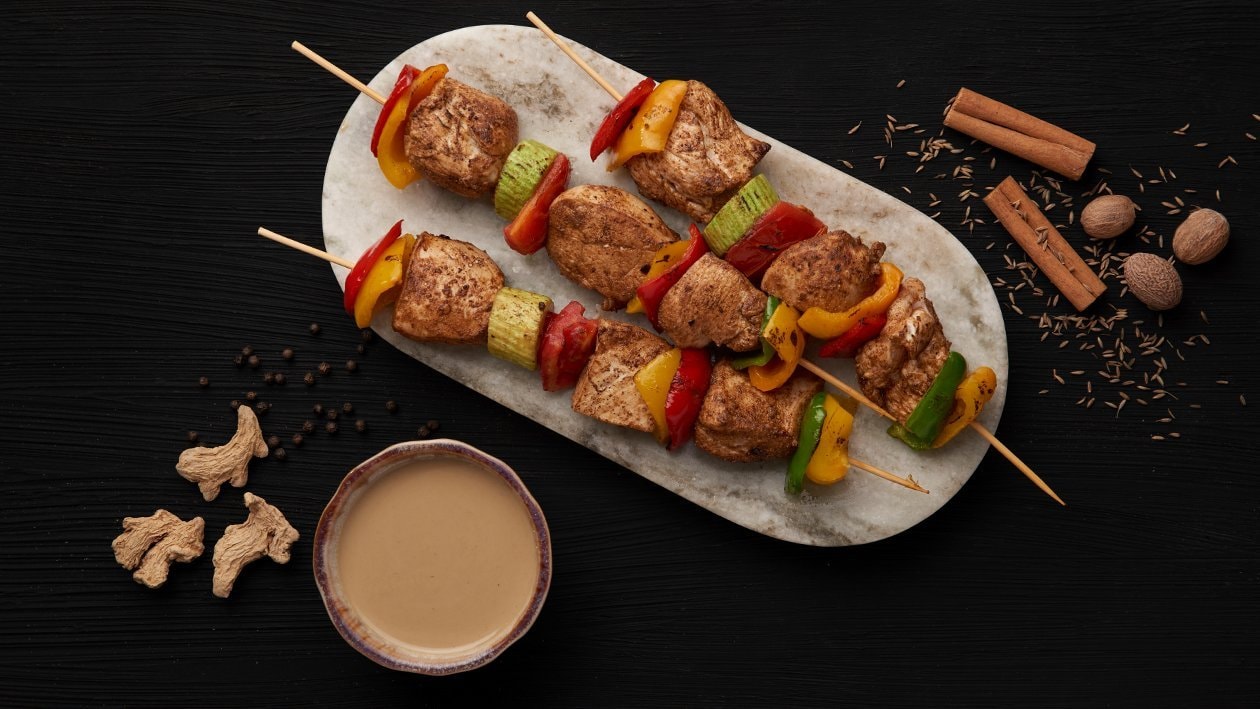 Ingredients
Chicken Kebab:
Boneless skinless chicken breasts

2.0 kg

Plain Greek yogurt

100.0 ml

Cloves garlic pressed or minced

20.0 g

Red Onion, quartered into 1-inch pieces

200.0 g

Red Bell Pepper, seeded and cut into 1-inch pieces

200.0 g
Preparation
Chicken Kebab:

Slice the chicken into cubes.
Add the Greek yogurt and olive oil to a medium size bowl. Add the minced garlic, Arabic spices mix and stir.
Pour the marinade in a bowl with the chicken pieces.
Marinate the chicken for 30 minutes.
When ready to grill, prepare the grill by lightly oiling the grate with vegetable oil or cooking spray and set to medium high heat.
If using wooden skewers, prepare them by soaking in water for 10 minutes. If using metal skewers, no prep is necessary.
Thread the chicken on the skewers alternating with the red onion, zucchini and red bell pepper until you've reached the end of the skewer, ending with chicken.
Repeat with the remaining skewers. Discard any of the remaining marinade that had the chicken in it.
Grill and serve with Salad and Tahini.

Chef's Tip:

You can refrigerate the margination overnight or at least for 4 hours. The longer they soak up the marinade, the more tender and delicious they taste.