Braised Lamb Shank
Lamb shanks are a classic, the ideal comfort food. Building the base flavours are key, Like onion, herbs and spices. Knorr Demi Glace is designed for braising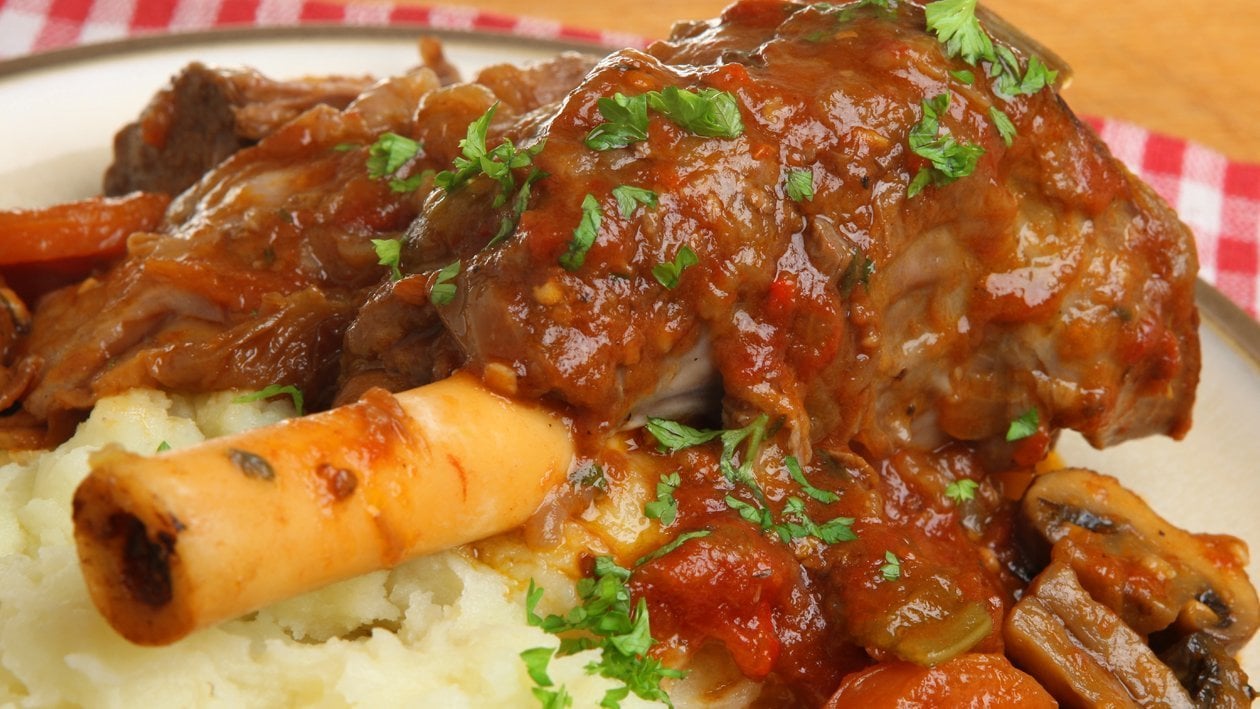 Ingredients
Preparation:
Lamb shank trimmed (500 g)

4.0 pc

Black pepper, crushed

5.0 g

Sliced Fresh Mushrooms

300.0 g

Fresh tomatoes, chopped & with the juice

200.0 g
Preparation
Preparation:

To make the Demi Glace Bring the water to boil then add the Knorr Demi Glace and cook for 5 minutes.
Heat the oven to 175 degrees. In a large mixing bowl, toss the lamb shanks with 1 tablespoon oil, one-half teaspoon salt and pepper.
Heat a large, heavy-bottomed sauté pan over medium heat until hot. Add the rest of the oil, and when the oil is hot add the lamb shanks in a single layer (do this in batches, if necessary). Brown the shanks uniformly on all sides, then remove the shanks to an appropriate casserole or braising pan with a tight-fitting lid.
Pour off and discard any excess fat, leaving only 1 to 2 tablespoons in the pan. Add the onion and mushroom and cook over medium heat, stirring occasionally, for 4 to 5 minutes, then stir in the garlic. Cook another minute, stirring, so that the garlic does not burn. Stir in the oregano, tomatoes with juice and the demi-glace. Bring the mixture to a boil, remove from the heat and pour over the lamb shanks. Add the bay leaves and cover the lamb tightly with the lid.
Transfer the lamb to the oven and cook for 1 hour, then reduce the heat to 150°C and continue to cook the lamb until it is fork tender but not falling off the bone, about 1 additional hour.
Remove the casserole and allow the lamb to cool, uncovered, for 15 minutes. Remove each shank to a serving dish and cover with foil. Remove the bay leaves from the casserole and discard.
Skim any fat from the top of the sauce. Check the consistency of the sauce (it should be the consistency of heavy cream.