Diners want more veggies, reveals a Euromonitor International study, where 50% of participants in Saudi Arabia were trying to keep their meat consumption in check because of concerns around climate change. This shift in diner eating habits is evident across the world and is referred to as Plant-based Eating.
Plant-based Eating is an emerging trend where consumers are moving from a predominantly meat-based diet, to one that is more evenly balanced between what plants can offer us and our traditional protein sources, says the Culinary Institute of America in its Plant-Forward Kitchen series. This trend is not about the complete removal of meat from restaurant menus, but is about pushing plants forward, to the center of the dish, rather than a side.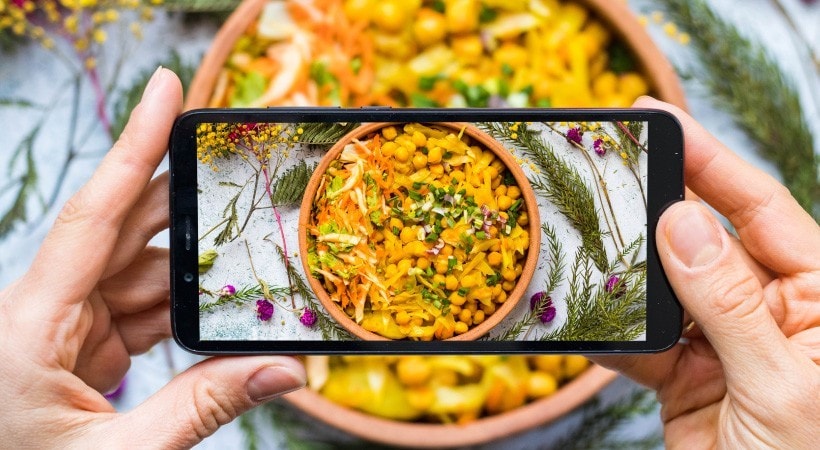 How is Plant-based Eating different from Vegetarianism and Veganism?
Consumers who are interested in Plant-based Eating, want more plants on their plates, but still eat meat on occasion – known as flexitarians. They want delicious food with a healthy twist, and often this means cutting down on the saturated fats that we find in meat and dairy. In Datassential's Plant-based Eating Trends report, the reasons for cutting down on meat for 49% of participants was because it was healthier to eat more plants, while 31% said they simply wanted to try something new.
Looking at the global landscape of plant, dairy and meat-eating diets, only around 15% of the global population accounts for vegetarians (who may still eat eggs and dairy) and vegans (who touch no animal products at all).

Omnivores make up the lion's share at around 65%, but flexitarians - a growing category - account for 25% of the world's population. Typically, flexitarians are described as people who are mostly vegetarian, only eating meat occasionally.
Research indicates that these diners are usually limiting meat consumption at home, and enjoying meat is saved for an indulgent experience out of the home. They also typically buy the same fruits and vegetables on a weekly basis, so dining out gives them a chance to try something new and experimental.
Plant-based Eating can be most closely linked to these flexitarians. This growing group of diners, alongside vegans and vegetarians, need to be catered to. This is an opportunity for chefs to offer sustainable dishes to diners that are looking for more plant-based dishes with great taste.

How are chefs going plant-forward?
Chefs know that the plant-based trend is a big one, with 38% saying that they have added vegetable-based dishes to their menus. Importantly however, 67% of chefs also noted that often their guests are the ones asking for new vegetable and fruit dishes, meaning chefs are being reactive with these dishes, rather than driving the changes themselves.
Now is the time to focus on proactive menu changes that will suit all our guests, with these small mindset shifts:
1. Make dishes recognisable
Opting for familiar ingredients as a base for your dish will make it more appealing for less adventurous diners. Pasta is a great example of this.


2. Evaluate how you name your dishes
Our diners still want to feel as if they indulged in their meal, not opted for the carb-free, sugar-free, fat-free version that makes them feel deprived. Speak to the natural flavours of each ingredient and write mouthwatering descriptions. Remember, however delicious your dish is, if it doesn't sound appetising on paper, it won't convert to orders. For this reason, have another member of your team review your written menu to make sure it's as captivating as it can be. And while the health-factor is definitely a draw for some, not everyone is looking for the low-calorie virtuous option when they eat out. Any health benefits should be presented as an added bonus.
3. Position your plant-based dishes amongst the meat options
Integrating your plant-powered dishes into your existing menu is important. Don't hide them away in their own section - let them have as much draw as your regular meaty dishes. Draw attention to these dishes with great imagery and strategically highlighting them in your menu design - boxing them in with your signature meat dishes for instance. Alternatively, you can also design your dishes to be flexible to allow you to simply remove a meat item from the final dish if a diner asks for it!
4. Beautiful plating
The exciting colour palette you're working with when it comes to fruit and vegetables should be showcased on the plate. Add visual interest through different cutting techniques, different textures and colour.
5. Explore new ingredients
While we tend to think around fresh fruit and vegetables with the term 'plant-based', keep in mind that ingredients such as pulses and grains can be found year-round and have an excellent shelf life. Known for their health benefits, these ingredients deserve more than a second look.

It's important to be aware of trends as they begin to happen and to show diners that you care about their concerns around health, wellbeing and sustainability.
Let's drive the change now, together!